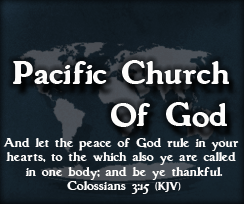 The Pacific Church of God strives to teach the truth of God's Word, edify, and serve all members humbly and peaceably in love, resulting in the spiritual growth of the Body of Christ, directing the brethren to Jesus Christ as the head of the Church and toward the Kingdom of God.
2015-05-14
2015 Feast of Tabernacles
The Feast of Tabernacles 2015
will be held at the beautiful Silver Mountain Resort, Kellogg, Idaho. Due to many brethren having health and/or travel restrictions, we will again have a satellite site in Elkhart, Indiana in the same facility as last year. If you want more information or to register, select the "Feast of Tabernacles 2015" navigation bar on the left. If you plan on attending either Kellogg or Elkhart you may make reservations now.

Rick Railston
- Contrasting Physical vs. Spiritual Israel
Download