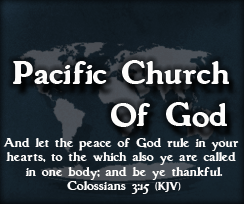 The Pacific Church of God strives to teach the truth of God's Word, edify, and serve all members humbly and peaceably in love, resulting in the spiritual growth of the Body of Christ, directing the brethren to Jesus Christ as the head of the Church and toward the Kingdom of God.
2016-05-27
2016 Feast of Tabernacles Rapid City Registration
The
Feast Registration/Questionaire
is now available
here
. We would appreciate a prompt reply as it makes our Feast planning much more efficient and effective.
2016-01-26
2016 Feast of Tabernacles
The Feast of Tabernacles 2016
will be held at the WaTiki Indoor Waterpark Resort/Residence Inn by Marriott in Rapid City, South Dakota. Due to many brethren having health and/or travel restrictions, we will again have a satellite site in Elkhart, Indiana in the same facility as last year. If you want more information, select the "Feast of Tabernacles 2016" navigation bar on the left. If you plan on attending either Rapid City or Elkhart you may make reservations now.

Rick Railston
- The Contrast Between Satan And John The Baptist
Download