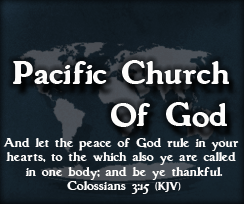 The Pacific Church of God strives to teach the truth of God's Word, edify, and serve all members humbly and peaceably in love, resulting in the spiritual growth of the Body of Christ, directing the brethren to Jesus Christ as the head of the Church and toward the Kingdom of God.
2016-10-23
2016 Feast of Tabernacles Sermon CDs And Entire Service DVDs
Sermon CDs and entire service DVDs of the Rapid City, SD Feast of Tabernacles, 2016 are available. Request your copies
here.

Rick Railston
- God's Angelic Host
Download