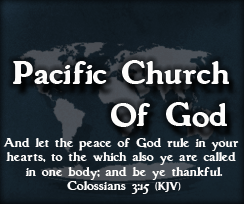 The Pacific Church of God strives to teach the truth of God's Word, edify, and serve all members humbly and peaceably in love, resulting in the spiritual growth of the Body of Christ, directing the brethren to Jesus Christ as the head of the Church and toward the Kingdom of God.
2017-12-13
New Pacific Church Of God Hymnal
Only the Pacific Church Of God hymnal will be used beginning the Sabbath of January 6, 2018. You may download a copy of the new hymnal in PDF form
here
or choose
Written Material
from the menu.