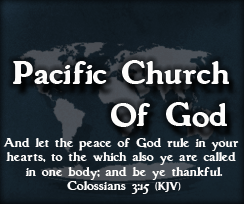 Greg Gaetzman
Lessons From The Unforgiving Servant
Download


The Pacific Church of God strives to teach the truth of God's Word, edify, and serve all members humbly and peaceably in love, resulting in the spiritual growth of the Body of Christ, directing the brethren to Jesus Christ as the head of the Church and toward the Kingdom of God.
2017-10-10
2017 Feast of Tabernacles Sermon CDs And Entire Service DVDs
Sermon CDs and entire service DVDs of the Rapid City, SD Feast of Tabernacles, 2017 are available. Request your copies
here.
2017-10-04
New Pacific Church Of God Hymnal
PacificChurch Of God has produced a new hymnal. It is now available in PDF form. It is now available
click here
or choose
Written Material
from the menu.