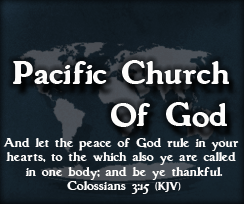 The Pacific Church of God strives to teach the truth of God's Word, edify, and serve all members humbly and peaceably in love, resulting in the spiritual growth of the Body of Christ, directing the brethren to Jesus Christ as the head of the Church and toward the Kingdom of God.
2015-10-18
Sermon Podcast
Would you like to automatically download the sermons and even burn your own audio CDs?
The RSS Feed or Podcast, which is now operational, allows you to subscribe to the podcast and when a new sermon is posted it will automatically be downloaded to your computer, iPod, or similar type MP3 device.
If you have never podcasted before, you might want to check out your iTunes application (MAC or PC) and click on the "Podcasts" button. Under "advanced" select "subscribe to podcast" and paste the following link in the field.
http://pacificcog.org/podcast.php
If your browser is set up for rss feeds, you should be able to simply click on the below link to just view and play the mp3 file through your browser or default rss reader.
http://pacificcog.org/podcast.php
If you do not have the free iTunes software installed, go to
www.apple.com/itunes/download
to download the latest free version.
Remember, this will work even if you do not own an iPod or similar MP3 player. All you need are speakers on your computer and a CD burner to make the CDs
If you have questions please email the web administrator at the address listed on the "Contact Us" page

Steve Buchanan
- "Perspectives Of God's Judgment"
Download