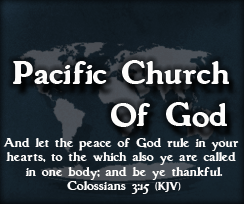 The Pacific Church of God strives to teach the truth of God's Word, edify, and serve all members humbly and peaceably in love, resulting in the spiritual growth of the Body of Christ, directing the brethren to Jesus Christ as the head of the Church and toward the Kingdom of God.
09/19/2014

Trumpets Services on September 25th
We will have Trumpets services in Moses Lake on Thursday, September 25th at 12:00PM PDT. We will have the Call-in available.
The Call-in number is 1-888-850-4523.
The participant code is 4733776#
09/19/2014
Moses Lake Sabbath Services Are Cancelled
There will be no Sabbath Service or phone-in, from Moses Lake this Sabbath on 09/20/2014.

Rick Railston
- Lessons From Rebuilding The Temple
Download